Sapi Island, one of the five islands under the Tunku Abdul Rahman Marine Park is only a 10-minute boar ride from the jetty located in the hotel we stayed. In order to avoid the tourists' peak time, we took the earliest boat at 8:00 am. We could fully enjoy swimming in the blue water of the South China Sea and the colorful marine life when snorkelling with few people around us, which was very nice.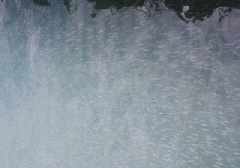 School of fish.
Countless number of fish are in schools.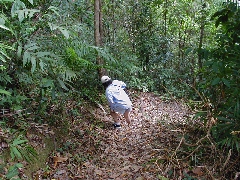 Small jungle trecking in Sapi island.
After that we explored the little trail by ourselves. Unfortunately, we could not see any animals but Takao had found a feather of hornbill. Local people said that there lives only a couple of hornbill in the island, that means we are vary lucky. From the length of the feather (21 cm), I can tell hornbill is such a huge bird.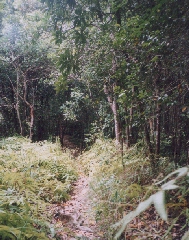 Animal trail.
More and more tourists were brought to the island by 10:00 am's boat because BBQ lunch is arranged on the beach at noon. The beach has become noisy and we returned to our hotel by 11:00 am's boat.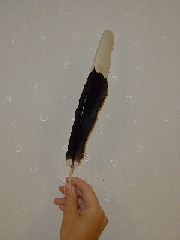 A feather of Hornbill bird found in the trecking.
Click on the image to jump to Wild Nature of Andaman ->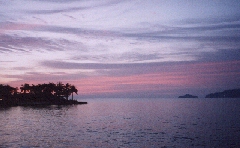 Evening on the sea.
This photo has nothing to do with the Sapi Island but I want to show you this beautiful landscape of sunset.