Unlike some resort hotels, where palm trees are artificially planted, the Andaman Resort is situated in an environment that is natural. The number on the map represents the area where the animal, bird or reptile was sited. Click on the number to see a picture of the animal.
Birds-eye view of the Datai Bay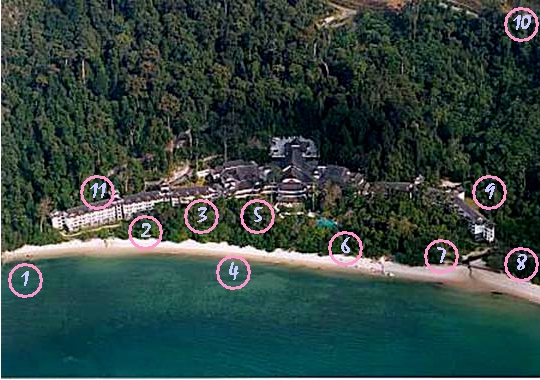 | | | | | | |
| --- | --- | --- | --- | --- | --- |
| # | (English) | (Japanese) | # | (English) | (Japanese) |
| 1 | Monkey | Saru | 6 | Hermit Crab | Yadokari |
| 2 | Squirrel | Risu | 7 | Mud Crab | Kani |
| 3 | Tokay Gecko | Yamori | 8 | Great Hornbill | Sai-cho |
| 4 | Sea Cucumber | Namako | 9 | Wild Boar | Inoshishi |
| 5 | Monitor Lizard | Oo-togage | 10 | Anthill (Termit) | Ari-zuka (Shiro-ari) |
| | | | 11 | Lizard | Tokage |
1. Monkey – "Saru"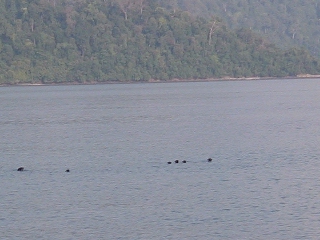 Believe or not, those black points on sea surface are head of monkeys. When we were taking a walk along the beach at 8:30 am in the morning we saw a family of monkeys jump out from the bushes and start swimming into the sea. According to the hotel's naturalist, they swim, for fun and not for hunting purpose.
2. Squirrel – "Risu"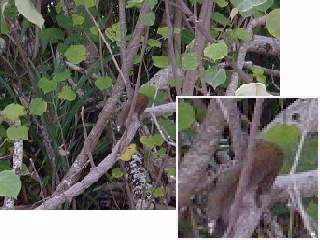 Though it was rather rare experience to meet a wild boar or a great hornbill, you can see squirrels all over the place.
3. Tokay Gecko – "Yamori"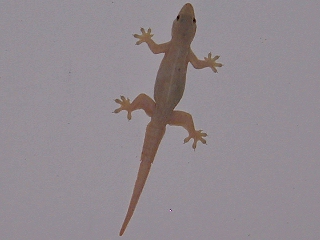 You can see many geckos at night outside the hotel buildings, but most of them are small ones. This one was as large as 30 cm in length. We found out that large one is called "Tokay Gecko" (the world largest and noisiest).
4. Sea Cucumber – "Namako"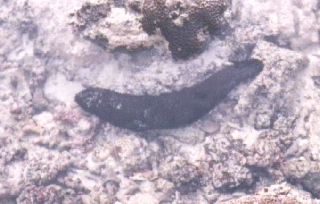 This picture was taken in September 1998, when we first visited the Andaman. In Japan we eat sea cucumber but we have never seen one alive. We were so impressed that we tried to find one each time we returned, but were unable to.
5. Monitor Lizard – "O-tokage"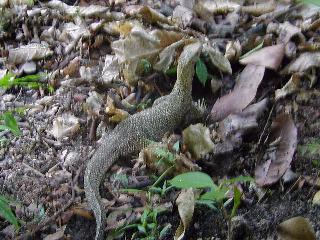 You can see this monitor lizard in the daytime on the lawn near the poolside trying to catch worms with his long tongue. According to the hotel staff, his mother was very popular among visitors because she was friendly and came to the poolside restaurant to beg for food. She even sunbathed on the poolside along with hotel visitors. This story has become the legend at hotel.
6. Hermit Crab – "Yadokari"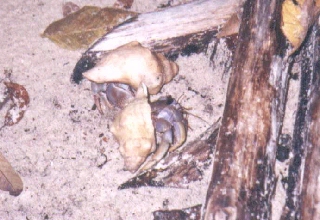 We saw hermit crab twice on the way back from our dinner. Seems like they are active at night.
7. Ghost Crab – "Kani"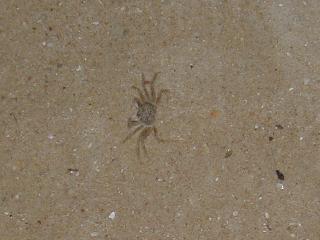 There are so many kinds of crabs and this is only of them. It is called 'Ghost' crab because it moves too fast to be seen.
8. Great Hornbill – "Sai-cho"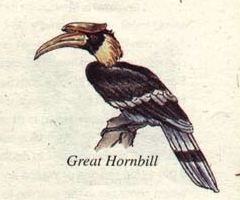 This is the one I had seen in the picture book when I was a little kid. Then, I saw the real one, finally!!. It was around 8:30 am. I saw three of them plucking fruit. They flew away when they saw me. According to the hotel staff, I was very lucky to see the great hornbills. I think that was because I was taking a walk alone (which means no conversation). Takao missed hornbills because he was still in the bed.
9. Wild Boar – "Inoshishi"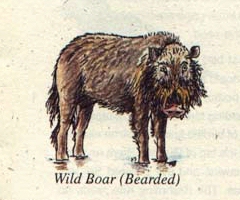 While Takao and I were walking along a small trail, we bumped into a family of wild boar crossing the trail 10 meter ahead. The mother boar let her babies go first and then she noticed our existence. She stared at us in a threatening way. We held our breath and stood still to let her know that we did not mean to hurt her children. Three minutes later she left. Although the experience was scary at the time it was also thrilling to be so close to a family of boar. You can see why we did not reach for our camera ti take a picture.
We have got a comment from the resident naturalist that the boar in the picture is not the same kind we met across. The one in the picture is 'Sus Burbatus' but the one we met should have been 'Sus Scrota'. Thanks to Dave!
10. Ant-hill (Termite) – "Ari-zuka (Shiro-Ari)"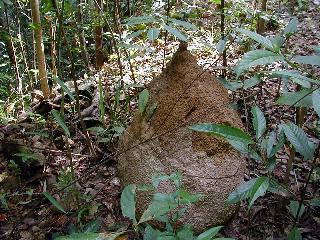 This anthill was found when we were doing "jungle trek".
11. Lizard – "Tokage"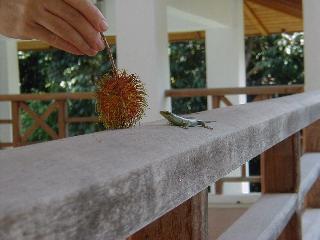 We met this lovely tiny lizard at the hotel corridor near our room when we came back from the outing to a local orchard arranged by the hotel. The red local fruit is called "Rambutan", freshly plucked by us. Local people like rambutan very much and some eat 100 per a day. It tasted like a lichee.
X. Human being – "Hito"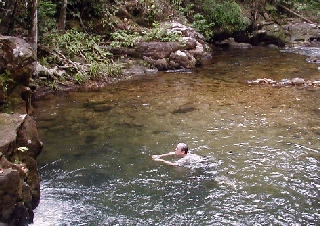 Guess who?